Chinese wok is called "dar shao" ( 大勺) in Chinese. If directly translated, it means "Big Spoon".
It is in a shape of a semi-sphere. Its semi-sphere shape has several advantages.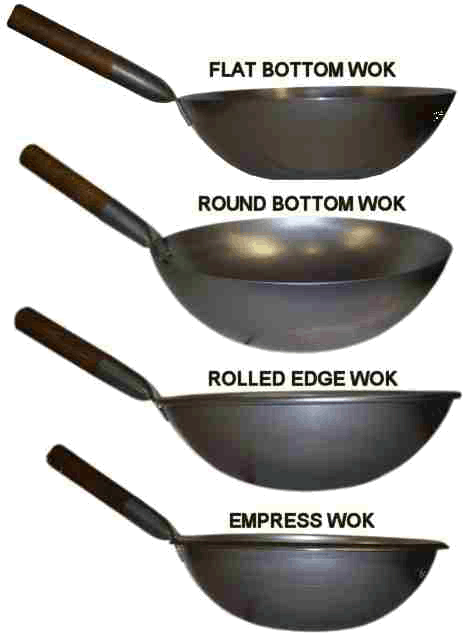 Chinese wok - the main Chinese cooking equipment.
Firstly, it makes the oil in the wok deeper than flat frying pans so that the oil can submerge the food materials more easily. It is the case in both deep-frying and stir-frying.
Secondly, the slop makes it easier to stir and mix the food inside. In such kind of semi-sphere shape wok, when you push the food materials in the wok up near the edge, it will slide back to the Centrex automatically. It makes the mixing and stirring much quicker than in a flat pan.
Skillful chefs, when stirring food in a Chinese wok, they can turn the food materials in it up-side-down as a whole by waving up the far side of the wok a little. This waving skill can make mixing and stirring very quickly done. This is important when cooking dishes that require short cooking time. You can see this skill in the Chinese food cooking videos below.
The standard heating source in Chinese cooking is coal fire or gas fire that has flame. However, nowadays electric kitchen stoves are used a lot. In such circumstances, you may have to use a wok that has a small flat part at the center. Otherwise the wok cannot sit stably on the stove and the wok's part that can absorb heat is too small.