The Shocking Sichuan Earthquake Facts
Basic Info on the Sichuan earthquake
According to the National Earthquake Monitoring Network of China,
Magnitude: 7.8 on Richter scale;

Time and Date: 2.28pm Beijing time, 12th May 2008;

Location: Wen-chuan County, Sichuan Province, which is 92 km to the north-west of Chengdu City.

Epicenter: Latitude = 31 degree north; Longitude = 103.4 degree east;

Depth of hypocenter: 29 km.

The shaking could be felt in as far as Beijing, Shanghai, and Bangkok.
Numerous aftershocks
Up to 16th May 2008, more than 2000 aftershocks have been recorded, in which the strongest one was of a magnitude of 6.1.
Death Toll
Up to 16th May, the Golden 72 Hours after the earthquake have elapsed. There will be rare chance for buried people to survive after this time. According to Chinese government, more than 19,509 death have been confirmed, while estimated total death toll would be more than 50,000.
Areas seriously affected
According to Chinese government, the areas that have been seriously stricken by the earthquake are of 65,000 square kilometers including A-ba, Mian-yang, De-yang, Cheng-du, Guang-yuan, Ya-an, which include six cities, 44 counties/regions and 1061 towns where 20 million people reside in.
Ying-xiu Town of Wen-chuan County is one of three towns located nearest to the epicenter. About 2300 out of the 12,000 population of Ying-xiu Town survived.
In Bei-chuan County, more than 10,000 people have died.
4.8 million people have become homeless.
Below is the Google map of stricken areas. Clicking on the balloon can pop up a on-site photo on the earthquake situation of the local city.
Big number of school kids killed while in class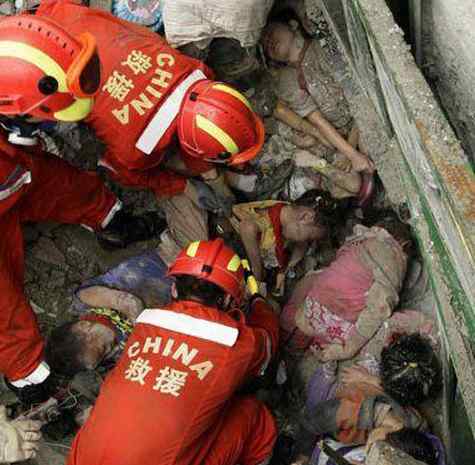 In Bei-chuan Secondary School of Bei-chuan Country, the 6-to-7-floor school building collapsed, few of the 1000 students and teachers escaped.
In Xiang-e-xiang Secondary School of Du-jiang-yan City, the main building collapsed, less than 100 out of the 420 students have been rescued.
The Secondary School and a Technical Training School of East Steam Turbine Factory of Han-wang Town: At least 200 people have been buried in collapsed school building.
In the Xinjian Primary School which was visited by Premier Wen Jia-bao, there were 600 students in total. Parents of students revealed that over 400 school kids died although the school and local government officials told the Premier that only 20 students died. Internet blogs are overwhelmingly blaming the poor quality of school buildings and the insufficient funding for schools.
In Ying-xiu Primary School of Ying-xiu Town, the whole building of the school collapsed, at least 400 kids have been buried.
In the Woodfish Town Secondary School, one three-floor dormitory building collapsed and 201 students died.




Click to watch the above video -- "Who Killed the Kids?" -- Shocking scenes on students killed in Sichuan earthquake. Evidences show that the kids died because of the very poor quality of school buildings as well as the authority's deliberate suppression of the earthquake prewarning.
Dams in threat
In Sichuan Province, there are 5 big reservoirs, 105 middle scale reservoirs, 1007 small-scale-1 reservoirs and 5561 small-scale-2 reservoirs. According to Chinese government, up to 5pm of 13th May there have been 391 reservoirs reporting danger, which included 30 big and middle scale reservoirs.
Slow and inadequate governmental action in rescue
According to Xinhua Net, up to 15th May 2.08pm, the military soldiers sent for on-site rescue was less than 1000. In the golden 72 hours after earthquake, only 29 aircrafts/helicopters were deployed for rescue. The Earthquake Rescue Commander Centre did not decide to send military soldiers to site by airdrop until the 14th May.
Serious delay in accepting international assistance
While governmental and non-governmental rescue teams from all over the world were actively offering help, no international rescue team has been admitted to enter the earthquake stricken areas during the Golden 72 Hours after the earthquake.
Precise prewarning suppressed!
Through Google's internet cache, we can find that very precise predictions of the Sichuan earthquake had been made and even known by some people before hand, but the prewarning was deliberately suppressed by the Chinese Communist government in order to keep the so-called stability. See
here
for details.
Go to top of page "Sichuan Earthquake Facts"