central column
China Eating Out Guide - Summary of Review
Category
Environ
-ment
Quality of Food
Fea-
turing
of Food
Price
Hy-
giene
Quality
of Service
English
service
Main visitors
Restaurants in Hotels of **** and above
very good
very good
poor
very high
very good
good
yes
foreigners, Chinese businessmen employed by foreign companies or very big Chinese companies
High level restaurants
very good
very good
very good
high
good
very good
possible,
depends
corporate-funded consumers from big companies or government, very high income Chinese professionals
Middle level restaurants
good
good, depends
some are very good
regular
good
varied
unlikely
corporate-funded guests from small companies, Chinese professionals with good income
Specialized restaurants
regular
good
very good
cheap
regular
regular
unlikely
mass urban Chinese people
Cheap restaurants
poor
poor, some are good
regular, some are good
very cheap
poor
regular
no
mass urban people
Food courts on top floor of big shopping malls
poor, crowded
good
very good
regular
regular
self-service
no
mass urban Chinese people, professionals
On street food stand
very poor
poor
poor
very cheap
very poor
self-service
no
grass-root people, urban people


Name
Description
Category Instrument
File Size
Link
unnamed
Composed and played by Chen Zhiping
koto (Guzheng)
3.2 MB
Downlaod
Spring
Composed and played by Qi Xiaochun
Erhu (two-stringed Chinese fiddle
3.9 MB
Download
Lantern Illuminating Devine Land
Accompanying music for a dancing performance program
Chinese orchestra
14.7 MB
Download
Song in my heart
Sung by myself
song accompanied by orchestra
4.5 MB
Download
High Mountain and Flowing Water
A famous classical Chinese music
gu-zheng
2.5 MB
Download
Woodsman And Fisherman's Talk
A famous classical Chinese music
gu-qin
7.3 MB
Download
Ten Side Ambush
A famous classical Chinese music. It describes a very famous war in 202 AD, in which Liu Bang totally defeated Xiang Yu and established Han Dynasty.
In the war, Liu Bang's General Han Xin firstly pretended to be defeated in the first battle and withdrew. Xiang Yu did not realize it was a scheme and ran into the ten side ambush setup by Han Xin. Xiang Yu's army was cut into several segments. Xiang Yu tried to break out of the ambush with several hundreds of soldiers. However, Xiang Yu's troop was driven to the river side and had no way to go. Xiang Yu fought until all his followers died. He killed himself at the end.
Pipa
7 MB
Download
alfkjasdf
| Name | Description | Category Instrument | File Size | Link |
| --- | --- | --- | --- | --- |
| Universal Salvation | A masterpiece composed in 1990s that will be the classic in the future and deserves listening for many times. Very touching. This music is "Ming's Special Recommendation" in this whole library of Chinese Music Downloads. | ensemble. Having one period of Xiao solo. | 33 MB, 128 kbps | Download |
| Saving the World | A future classic. Very peaceful. This is the sister music of the above "Universal Salvation". | ensemble | 33MB, 128 kpbs | Download |
asdfafad
| Name | Description | Category Instrument | File Size | Link |
| --- | --- | --- | --- | --- |
| Plum Blossom in Snow | - | Bamboo flute, accompanied by piano. | 3.4 MB 64kbps | Download |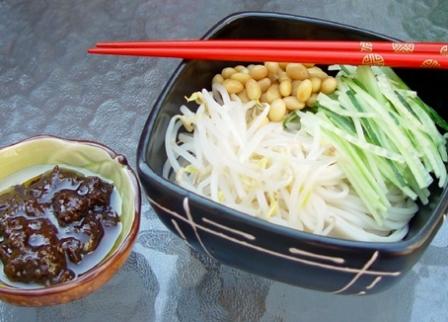 Fried Soybean Sauce Noodle.
When working in Beijing, I ate through all the cheap restaurants down the street of my workplace. In one of the cheap restaurants, they served excellent ¡°Noodle with Fried Soybean Sauce¡±. I went there from time to time to enjoy the noodle. ¡°Noodle with Fried Soybean Sauce¡± is the only "Ming's Special Recommendation" in this whole "China Eating out Guide".
For foreigners, the cheap price may not be main criterion for you to choose this kind of restaurants. The food served in this kind of small restaurants can be found in better restaurants as well. However, if you speak reasonably good Chinese and just want to experience ordinary Chinese people¡¯s life, you can go to these cheap restaurants. If your Chinese friends know some good cheap restaurants, you can go with them as well.
Food Courts at top floor of big shopping malls
Nowadays, in China's big cities, it is popular for big shopping malls to have food court at the top floor. Some shopping malls' food courts are excellent for its extremely diversified food. What are served at such food court are not dishes but small eatings like fries, dumplings, porridge etc. And they just cooked the food in front of you for you to see. The hygiene and quality of food was acceptable.
This kind of food courts is where urban Chinese people like to go. At meal time, it is often over-packed. The price is not expensive.
I seldom went to such places when I was in Beijing, because it was too crowded and I did not like to spend time in queuing.
On-street food stand
In China's cities, many breakfast providers just set up temporary food stands beside roads in the morning. I often had breakfast at such places on my way cycling to work.
What I ate at the on-street food stands was the typical breakfast food in north China - Youtiao (Deep Fried Strip of Dough). It was normally served with Rice Porridge, or Soy Milk or Hundun (Wonton in Cantonese, a type of dumpling served in soup).

Youtiao (Deep fried strip of Dough).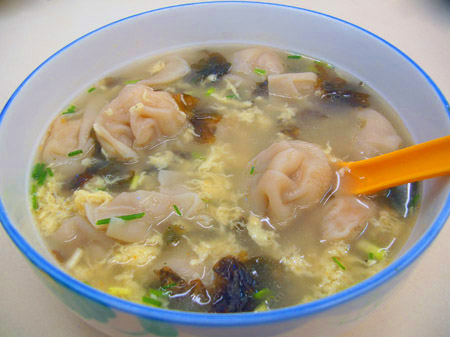 Hundun (a type of dumpling served in soup).


Return to home